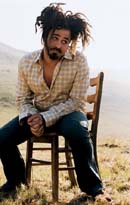 Vi har nævnt en hel del Greatest Hits plader de sidste par uger, og det seneste band til at informere om, at de også vil udsende deres største hits er Counting Crows.
Deres opsamlingsplade kommer til at hedde "Films About Ghosts" og er i butikkerne 25. november. Udover sange som Mr Jones, Big Yellow Taxi og A Long December kan man på pladen også finde et nyt nummer, She Don't Want Nobody Near, en coverversion af Grateful Deads Friend of the Devil og sangen Einstein on the Beach, der ellers tidligere kun har været at finde på pladen "DGC Rarities Vol. 1.".
Counting Crows spillede forleden til den årlige Bridge School Benefit koncert, som Neil Young arrangerer hvert år, og der fik folk en forsmag på, hvordan deres version af Friend of the Devil lyder.
Vil man gerne se bandet optræde, skal man forøvrigt holde øje med Jay Leno og David Lettermans shows, hvor bandet regner med at dukke op i denne måned.