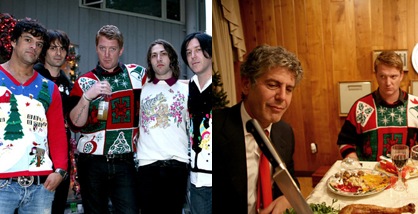 Rolling Stone rapporterer i dag om en af de mere bizzare kollaborationer i Amerikansk fjernsyn. Tv-kokken Anthony Bourdain har teamet op med Queens of the Stone Age for at lave en Christmas special, til hans program "No Reservations" (Ikke at forveksle med filmen af samme navn, som i disse dage går i biffen, under navnet "Kærlighed og Krydderier"!).
Programmet, som mest af alt lyder som Mik Schacks Hjemmeservice på mescalin, indeholder i følge Bourdain "a traditional Thanksgiving/Christmas meal with turkey, all the trimmings, cranberry sauce and pumpkin pie … some Christmas carols … and a vicious brother-on-brother knife fight", og altså derudover musik af Queens, som har klædt sig på til lejligheden.
Hvorvidt programmet, som i USA kører på The Travel Channel, nogensinde når disse breddegrader er uklart, men mon ikke vi ellers kan præstere et par klip fra Youtube, når den tid kommer?