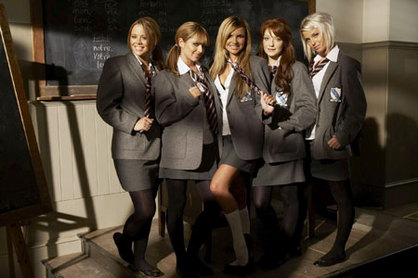 Vi har tidligere gjort os kloge på de mange kvaliteter som Girls Aloud har. Og det er ikke så få, skal vi hilse at sige.
Nu tager de fem uber-babes atter bladet fra munden, og det går altså ud over den engelske presses indie-dronninger, aka Peaches Geldorf og Kate Moss, i sangen Hoxton Heroes. Sangen inkluderer bla. linjen: "Just cos your dad knew the Rolling Stones/You've got the Primrose set in your cell phone/Don't kid yourself you're an indie clone,we've seen it before get a sound of your own." Uhhh, feisty…
Om det er fordi de er jaloux, over at de ikke kommer sammen med hverken Joe Lean eller the Jing Jang Jong, skal vi ikke kunne sige, men når vi får muligheden for at vise damer i skoleuniformer… ja, så tager vi den altså.