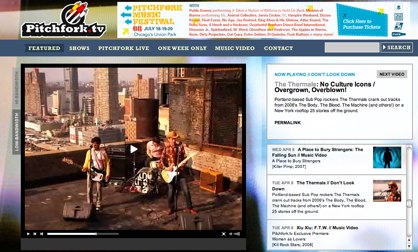 I løbet af sidste uge lancerede Pitchfork en web-TV kanal. Umiddelbart var vores holdning at der allerede er rigeligt med video online, og at der ikke var brug for endnu et bidrag. Efter at have kigget pitchfork.tv lidt efter i sømmene, har vi dog ændret mening.
Det er blevet et ganske cool site. Folkene bag Pitchfork har fået fingrene i masser af fine ting, inklusive en ekslusiv studiooptagelse af Radioheads Bangers and Mash med Thom Yorke på trommer, et interview med Robyn, og min personlige favorit, en liveoptræden med The Thermals på toppen af en 25 etagers bygning i New York. Det virker absolut til at Pitchfork.tv er værd at holde øje med.
Returning to the Fold fra koncerten med The Thermals kan også ses nedenfor.