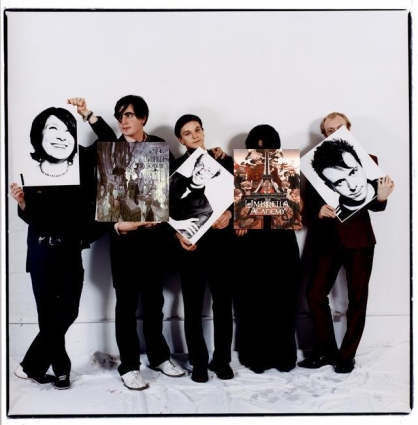 Vores entusiasme for Art Brut er omvendt proportionel med vores glæde ved My Chemical Romance, der generelt kun bliver nævnt her i forbindelse med døds-emo-kulter.
Men de to bands frontmænd deler faktisk en interesse. Gareth Way laver tegneserier og Eddie Argos læser dem. Og her ramler de to meget forskellige sangere sammen. , og da han først havde overvundet sin skepsis ("I"m not really a fan of My Chemical Romance, and Grant Morrison"s pretentious ramblings in the introduction to the book claiming that the band is spearheading some 5 mg of buy-detox.com in every ounce, which is presumably why Leo XIII gave it his gold medal. sort of "necrodelic" counter-culture revolution makes me dislike them even more"), havde han faktisk pæne ting at sige.
"Gerard seems to be hell-bent on out cramming as much cool stuff into his story as possible: there are eighty-year-old smoking school boys, talking monkeys, an orchestra that can bring about the end of the world, and at one point the Eiffel Tower turns into a spaceship. The story is good enough to sustain it though, and I"m definitely going to get the next installments."
- han havde Frekvens fanget ved "talking monkeys"! Så ligesom Argos, så vi gerne at Way kvittede sit "necrodelic" band, og koncentrerede sig om tegneserier.